Alien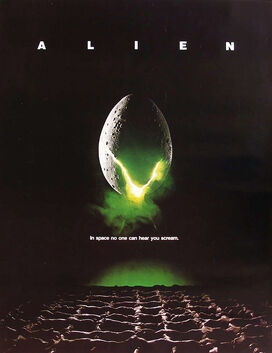 Alien is a 1979 science fiction horror film directed by
Ridley Scott
and starring Tom Skerritt, Sigourney Weaver, Veronica Cartwright, Harry Dean Stanton, John Hurt, Ian Holm and Yaphet Kotto. The film's title refers to its primary antagonist: a highly aggressive
extraterrestrial creature
that stalks and kills the crew of a spaceship. Dan O'Bannon wrote the screenplay from a story by him and Ronald Shusett, drawing influence from previous works of science fiction and horror. The film was produced through Brandywine Productions and distributed by
20th Century Fox
, with producers David Giler and Walter Hill making significant revisions and additions to the script. The titular Alien and its accompanying elements were designed by Swiss surrealist artist H. R. Giger, while concept artists Ron Cobb and Chris Foss designed the human aspects of the film.
Alien garnered both critical acclaim and box office success, receiving an Academy Award for Best Visual Effects, Saturn Awards for Best Science Fiction Film, Best Direction for Scott, and Best Supporting Actress for Cartwright, and a Hugo Award for Best Dramatic Presentation, along with numerous other award nominations. It has remained highly praised in subsequent decades, being inducted into the National Film Registry of the Library of Congress in 2002 for historical preservation as a film which is "culturally, historically, or aesthetically significant". In 2008 it was ranked as the seventh-best film in the science fiction genre by the American Film Institute, and as the 33rd-greatest movie of all time by Empire magazine.
The success of Alien spawned a media franchise of novels, comic books, video games, and toys, as well as three sequel and two prequel films. It also launched Weaver's acting career by providing her with her first lead role, and the story of her character Ripley's encounters with the Alien creatures became the thematic thread that ran through the sequels Aliens (1986), Alien 3 (1992), and Alien Resurrection (1997). The subsequent prequels Alien vs. Predator (2004) and Aliens vs. Predator: Requiem (2007) abandoned this theme in favor of a crossover with the Predator franchise. Scott began work on an Alien prequel in 2009, which developed into his 2012 film Prometheus.
Ad blocker interference detected!
Wikia is a free-to-use site that makes money from advertising. We have a modified experience for viewers using ad blockers

Wikia is not accessible if you've made further modifications. Remove the custom ad blocker rule(s) and the page will load as expected.